Are some law firms making a mistake by handing clients their billable hour data despite working for flat or fixed fees?
A Diversity Lab study of more than 400 successful lawyers found that they had some surprising traits in common.

Time for another roundup of news and gossip. And yes, they all center around our president (so let me apologize in advance).
read more
Under Pressure: Compensation models are morphing, and (some) partners are feeling the squeeze.
read more
Resources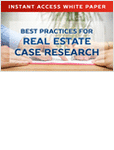 Best Practices for Real Estate Case Research
Learn How to Overcome The Most Common Challenges In Real Estate Case Research
MORE RESOURCES