Do the prominent lawyers representing President Donald Trump, his family and his administration—many of them Jewish—have a duty to object publicly to his comments about the violence in Charlottesville, Virginia?
Morgan, Lewis & Bockius is notching short-term gains at the risk of long-term pain from its most famous client, argues Steven J. Harper.

Can we cut through the bull about why law schools are now accepting GREs for admission? The fact is that applications are falling, and law schools are desperate for hot bodies to fill their empty seats.
read more
Pro Bono Report: Am Law 200 lawyers showed the love—and felt it—as pro bono hours ticked upward.
read more
Resources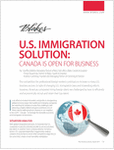 U.S. Immigration Solution: Canada is Open for Business
In an effort to increase innovation and profits in a burgeoning global economy, companies need to attract and retain a highly skilled immigrant workforce. Could Canada be the solution?
MORE RESOURCES