This year we raised the bar that defines the financial elite of The Am Law 100. Only 24 firms made the cut.
The idea that lawyers can make buckets of money from their cozy apartment, beach house or suburban manse is a fantasy.

Being bumped from an airplane is a raw deal. Sitting on a jury is way worse. What could be done to change that? Fair pay.
read more
Under Pressure: Compensation models are morphing, and (some) partners are feeling the squeeze.
read more
Resources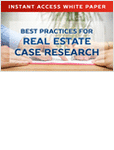 Best Practices for Real Estate Case Research
Learn How to Overcome The Most Common Challenges In Real Estate Case Research
MORE RESOURCES