A Midwest experiment to provide trusts and estates legal services at a lower cost is showing signs of success. TuckerAllen, a subsidiary of St. Louis-based Louis Rice, has served 1,000 families in its 10 months of existence. This week it expanded by acquiring a small, local law practice.
For young lawyers hoping that public service loan forgiveness could be an answer to a lifetime of student debt burdens, President Trump has some bad news.

Consultant Dan Nardello lays out how law firms can better investigate potential new partners.
read more
Making It Count: Meet the GCs who may finally impact law firm diversity.
read more
Resources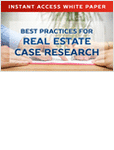 Best Practices for Real Estate Case Research
Learn How to Overcome The Most Common Challenges In Real Estate Case Research
MORE RESOURCES