Diversity among more than 200 of the largest law firms in the country remained nearly flat between 2015 and 2016, our annual report on law firm diversity shows. A number of general counsel, fed up with that stagnation, have implemented programs aimed at pushing law firms to real action.
A few weeks ago I wrote that I doubted cloud-based operations are competing against Big Law for major rainmakers and clients. One virtual firm took issue with my views.

A senior Latham & Watkins lawyer is running for Parliament as a member of a controversial right-wing political party in the U.K.'s upcoming general election on June 8.
read more
Making It Count: Meet the GCs who may finally impact law firm diversity.
read more
Resources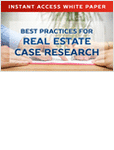 Best Practices for Real Estate Case Research
Learn How to Overcome The Most Common Challenges In Real Estate Case Research
MORE RESOURCES