Law firm clients' valuable information has long been known as a potential treasure trove for hackers. The implications of network-crippling malware may be just as damaging for a deadline-driven service industry that holds the fate of companies' legal issues in its palm.
International sanctions and a drop in global energy prices have hit the Russian economy hard, resulting in wild swings in the value of the ruble.

For young lawyers hoping that public service loan forgiveness could be an answer to a lifetime of student debt burdens, President Trump has some bad news.
read more
Making It Count: Meet the GCs who may finally impact law firm diversity.
read more
Resources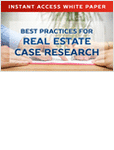 Best Practices for Real Estate Case Research
Learn How to Overcome The Most Common Challenges In Real Estate Case Research
MORE RESOURCES