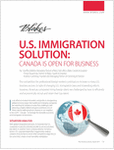 In an effort to increase innovation and profits in a burgeoning global economy, companies need to attract and retain a highly skilled immigrant workforce. Could Canada be the solution?
Large, mid-market and emerging companies are searching to increase innovation and profits in a growing global economy. With global competitive pressures, it's essential that U.S. companies in specific industries be able to recruit and retain top talent.
In a perfect storm compounded by numerous factors, U.S. corporate leadership is aggressively seeking solutions that promise to enrich their competitive edge and, at the same time, create a more favorable marketplace.
This white paper will detail the key considerations and solutions that a Canadian office offers, including:
- Improvements on Canadian immigration policy
- Canadian options that support U.S. companies
- A structured solution to increase the North American platform
Download this white paper today to get started!
read more