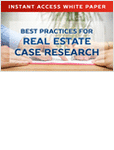 Learn How to Overcome The Most Common Challenges In Real Estate Case Research
Many civil lawsuits involve real estate. When they do, it's often a requirement to identify and verify real property information and data. It is essential for attorneys and researchers to gather accurate and up-to-date information and documentation to support the most appropriate outcome in the legal matter.
Accurate property ownership documentation and information is necessary within the discovery process. It often provides insight and answers questions during legal proceedings.
It can be vital in legal practice areas, such as:
Family Law: Divorce, Estate Planning, Probate
Commercial & Residential Real Estate
Bankruptcy
Foreclosure
Banking and Financial Compliance
Eminent Domain
Download now and learn to to overcome the most common challenges in Real Estate Research.
read more