A Chicago federal jury on Thursday awarded $3 million to the widow of a former leader of Reed Smith's corporate department, finding pharmaceutical giant GlaxoSmithKline plc liable for the 2010 suicide of Stewart Dolin.
If your firm has been spending big bucks on branding, paying fat bonuses or packing associates off for courses at Harvard Business School, you've just wasted your partners' hard-earned money.

Being bumped from an airplane is a raw deal. Sitting on a jury is way worse. What could be done to change that? Fair pay.
read more
Under Pressure: Compensation models are morphing, and (some) partners are feeling the squeeze.
read more
Resources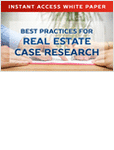 Best Practices for Real Estate Case Research
Learn How to Overcome The Most Common Challenges In Real Estate Case Research
MORE RESOURCES