Todd Jacobs, a former managing partner and member of the executive committee at Grippo & Elden, a Chicago-based complex commercial litigation boutique that merged with Shook, Hardy & Bacon in early 2015, is opening a Windy City office for Iowa-based Bradley & Riley.
Just how far can you push a summertime dress code before you jeopardize your professional credibility?

A Diversity Lab study of more than 400 successful lawyers found that they had some surprising traits in common.
read more
Under Pressure: Compensation models are morphing, and (some) partners are feeling the squeeze.
read more
Resources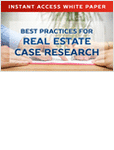 Best Practices for Real Estate Case Research
Learn How to Overcome The Most Common Challenges In Real Estate Case Research
MORE RESOURCES