Four years after considering a potential U.S. Senate bid, former longtime Orrick, Herrington & Sutcliffe leader Ralph Baxter Jr. is pondering running on the Democratic ticket for a West Virginia seat in Congress, according to a newspaper report from his home state.
A few weeks ago I wrote that I doubted cloud-based operations are competing against Big Law for major rainmakers and clients. One virtual firm took issue with my views.

A senior Latham & Watkins lawyer is running for Parliament as a member of a controversial right-wing political party in the U.K.'s upcoming general election on June 8.
read more
Making It Count: Meet the GCs who may finally impact law firm diversity.
read more
Resources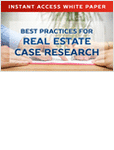 Best Practices for Real Estate Case Research
Learn How to Overcome The Most Common Challenges In Real Estate Case Research
MORE RESOURCES