The Am Law 200 reversed course in 2016, posting gains in gross revenue after experiencing a decline in 2015. But that average gain of 1.2 percent, coupled with similar increases in revenue per lawyer and profits per equity partner, masked some weakness in many firms' results. As our overview story shows, a "hollow middle" is emerging.
I know you are a busy, hot-shot lawyer, but may I offer you some friendly advice?

A senior Latham & Watkins lawyer is running for Parliament as a member of a controversial right-wing political party in the U.K.'s upcoming general election on June 8.
read more
Under Pressure: Compensation models are morphing, and (some) partners are feeling the squeeze.
read more
Resources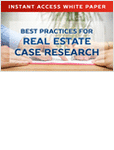 Best Practices for Real Estate Case Research
Learn How to Overcome The Most Common Challenges In Real Estate Case Research
MORE RESOURCES