Do the prominent lawyers representing President Donald Trump, his family and his administration—many of them Jewish—have a duty to object publicly to his comments about the violence in Charlottesville, Virginia?
Morgan, Lewis & Bockius is notching short-term gains at the risk of long-term pain from its most famous client, argues Steven J. Harper.

Business development folks at large law firms should look away now.
read more
Pro Bono Report: Am Law 200 lawyers showed the love—and felt it—as pro bono hours ticked upward.
read more
Resources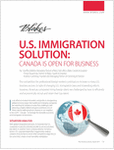 U.S. Immigration Solution: Canada is Open for Business
In an effort to increase innovation and profits in a burgeoning global economy, companies need to attract and retain a highly skilled immigrant workforce. Could Canada be the solution?
MORE RESOURCES