The Am Law 100 posted solid gains in gross revenue and profits in 2016, but the revenue per lawyer figure dropped on stronger growth in head count.
Are women opting for those lower-paying practices or is there an invisible hand that steers them there?

Being bumped from an airplane is a raw deal. Sitting on a jury is way worse. What could be done to change that? Fair pay.
read more
Under Pressure: Compensation models are morphing, and (some) partners are feeling the squeeze.
read more
Resources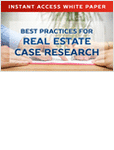 Best Practices for Real Estate Case Research
Learn How to Overcome The Most Common Challenges In Real Estate Case Research
MORE RESOURCES